If you've been planning this Southeast Asia trip for a while now, then you might have already checked out a few guidebooks and done research on destinations. But if your holiday is still a while away, and all you know is that you want it to be as picture-perfect as possible, then here are some top photogenic places.
1. Gate to Heave, Indonesia
Gate to Heaven, Indonesia – The Gate to Heaven is a beautiful and unique temple in Bali, Indonesia. It is one of the most popular tourist destinations in Bali and is known for its beautiful architecture and stunning views. The temple is located on the top of a cliff and offers breathtaking views of the ocean and the surrounding coastline.
It is definitely a place worth visiting if you are looking for photogenic locations.
Access to Gate to Heaven
The Lempuyang Temple, often known as the Gateway to Heaven, lies on Bali's farthest east side. Hire a driver in Bali to drive you in safely to this well-known location. Many popular tourist destinations, like Ubud, Kuta, Seminyak, and Nusa Dua, require a lengthy trip.
Candidasa is close to the Lempuyang Temple's site (one of the finest beaches in east Bali). On top of Bisbis Mountain, the Lempuyang Temple was constructed. You will therefore undoubtedly encounter numerous winding roads and abrupt turns. I believe it is smart to hire a personal driver or tour to take you there.
2. Golden Giant Hand Bridge, Vietnam
The Golden Giant Hand Bridge in Vietnam is the perfect place to snap some amazing travel photos. The bridge is covered in gold leaf and features a giant hand sculpture at one end. It's a popular spot for both tourists and locals, and the views of the city from the bridge are simply stunning.
Access to The Golden Giant Hand Bridge 
Only by cable
car
, the Golden Bridge in the Ba Na Hills is reachable from the summit of a mountain. The only way to reach the bridge is via buying a ticket to Sun World, as all cable cars depart from there (a franchise of theme parks in Vietnam).
Use Sun World Ba Na Hills as the location if you're using Google Maps. Otherwise, they'll try to lead you in a completely wrong direction (if it shows any directions at all).
3. Gardens by the Bay, Singapore
Gardens by the Bay in Singapore is one of the most photogenic places in Southeast Asia. The gardens are beautifully landscaped and full of vibrant colors. There are also many interesting sculptures and features to explore. The gardens are open from 5 am to 2 am, so you can snap some great photos at any time of day.
4.Wat Saman Rattanaram,Thailand
If you're looking for a beautiful and photogenic place to take some travel photos, Wat Saman Rattanaram in Thailand is a great option. This temple is situated on the banks of the River Kwai and features stunning architecture and colorful artwork. The temple grounds are also well-maintained, making it a perfect place to snap some pictures.
Access to

Wat Saman Rattanaram,Thailand
A simple day excursion from Bangkok to Wat Saman Rattanaram is possible. Wat Rattanaram is around 90 kilometers from Central Bangkok by car. From Bangkok's Eastern Bus Terminal, a two-hour bus ride will take you to Chachoengsao.
The journey by train takes between a little over an hour and just over two hours, depending on the train you take and any delays, from Bangkok Hualamphong Railway Station to Chachoengsao Junction Railway Station.
There are three trains each day that operate along this route. Since it is too far to walk, you must take a taxi from Chachoengsao Junction Railway Station to Wat Saman Rattanaram.
5. Prasat Beng Mealea, Cambodia
Prasat Beng Mealea is a centuries-old temple in Cambodia that is now a
popular tourist destination
. The temple is known for its intricate carvings and beautiful architecture. It is also surrounded by a lush jungle, making it a perfect photogenic place.
If you're looking for a photogenic place in Southeast Asia to snap the perfect travel photo, Prasat Beng Mealea is definitely worth a visit.
Access to

Prasat Beng Mealea
You can first leave through the Angkor Archaeological Park. To proceed this way, though, you'll need a temple ticket. Go to Angkor Wat first, then Srah Srang and Banteay Samre to the east. After continuing on Road 66, turn onto Road 64 and proceed north. Even though the distance is only 58 kilometers, the roads are substantially smaller, thus taking a taxi or bus will result in a slower trip. This route will be preferred by most bikers.
Second, you can travel on National Road 6 in the direction of Phnom Penh. You will arrive in Damdek
village
after traveling around 35 kilometers. After making a left onto Road 64, travel approximately 30 kilometers north. Due to the larger road and shorter
travel
time, this is the route that the majority of cabs will choose.
6. Dambulla Royal Cave Temple and Golden Temple, Sri Lanka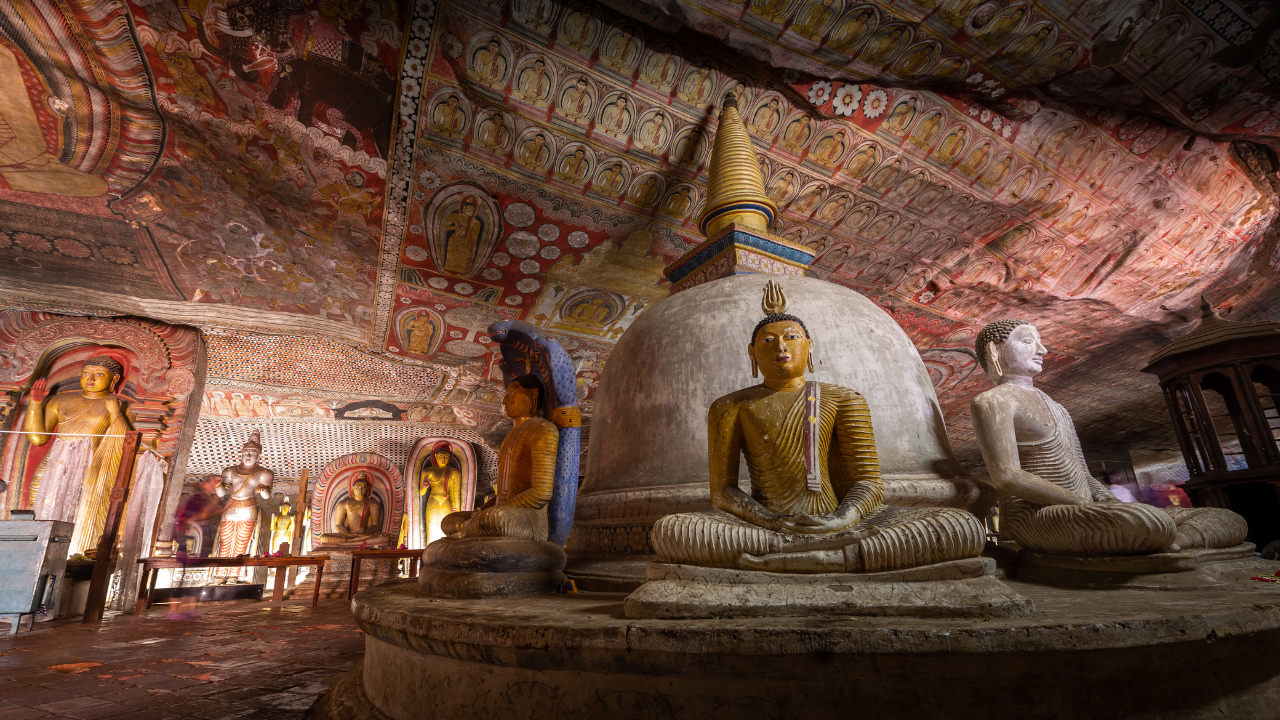 The Dambulla Royal Cave Temple and Golden Temple are two of the most photogenic places in Southeast
Asia
. The Dambulla Royal Cave Temple is a centuries-old Buddhist temple that is filled with beautiful murals and statues. The Golden Temple is a beautiful Hindu temple that is covered in gold leaf.
Access to Dambulla Royal Cave Temple and Golden Temple
In addition to local buses and rented automobiles,
travelers
frequently use Sri Lanka's lovely and practical tuk-tuks for transportation. Tuk-tuk services are available from Sigiriya to take you to the temple's base. The base is a 15-minute walk from the Dambulla bus terminal.
7. Gawdawpalin Temple, Bagan, Maynmar. 
Gawdawpalin Temple is a Buddhist temple in Bagan, Myanmar. It's one of the most photogenic places in Southeast
Asia
, with its beautiful golden stupa and elaborate carvings.
It is the second-tallest temple in the Bagan plains, standing at a height of 55 meters.
King Narapatisithu's reign, a particularly successful period in the history of the Bagan empire, saw the beginning of the construction of the Gawdawpalin temple.
Many
spectacular
structures, including the Gawdawpalin, the Dhammayazika, the Sulamani, and a number of lesser-known pagodas and temples, were constructed during his reign. Early in the 13th century, under the rule of his succeeding monarch, King Htilominlo, the temple was finished.
Access to

Gawdawpalin Temple
Old Bagan's southwest side, next to the Irrawaddy River
YOU CAN CHECK THIS BLOG TO LEARN MORE ABOUT TEMPLES IN BAGAN
16 Must-See Temples In Bagan, Myanmar That You Cannot Afford To Miss
8. Sigiriya,Sri Lanka
Sigiriya is a photogenic place in Southeast Asia that is
perfect for travel
photos. The ancient rock fortress is located in Sri Lanka and is surrounded by beautiful gardens. The Sigiriya frescoes are also a popular spot for photos.
The most cost-effective
way to travel
from Colombo to Sigiriya is by train, which will cost you about LKR 800-1,200. From Colombo, it takes one hour and 33 minutes. There aren't any direct trains to Sigiriya, though. The most practical choice is to take a train 15 kilometers from Colombo Fort to Habrana.
9. Putra Mosque,Malaysia
Situated in the capital city of Kuala Lumpur, the Masjid Putra or Putra Mosque is one of the most beautiful and photogenic places in Southeast Asia. The mosque was built in 1999 and can accommodate up to 15,000 worshippers.
Its unique pink dome and twin minarets make it a popular spot for photography enthusiasts.
Access to Putra Mosque
The KLIA Transit train from KL Sentral to Putrajaya is the most effective method of transport if you're taking public transportation. You can take a taxi or a bus from
Putrajaya station
. On the
Top Putrajaya Attractions
page, you may get a map of the area if you're driving.
So there you have it — 9 of the most photogenic places in Southeast Asia for you to snap the perfect travel photos. From Thailand to Vietnam, there is no shortage of amazing locations to explore and photograph in this part of the world. So what are you waiting for? Start planning your next Southeast Asian adventure today!