Malaysian desserts are certainly some of the most varied and mouth-watering delicacies in the world. From the richness in flavours and also tantalising textures, these colourful desserts are definitely worth checking out for those who are planning a visit to Malaysia.
While there are plenty of desserts that are highly commercialised such as the Portugese egg tarts or ABC ice-kacang (shaved-ice served with beans and syrup), the country also has its fair share of lesser known desserts awaiting to be discovered. With that said, here are five lesser known desserts to look out for in Malaysia.
Cekodok
Kicking off the list of Malaysian desserts is the cekodok, deep-fried banana fritter balls that are often served as snacks. Cekodok is often sold in the roadside stalls of Malaysia and is also known by other names such as 'jemput-jemput' or 'kuih kodok aka 'toad cake'. The dessert itself comes in a intriguing shape of a brown little ball that is uneven lumpy appearance.
Do not let its ugly appearance fool you however, as the snack itself is a popular tasty treat among the locals. Crispy on the outside, while soft and fluffy on the inside; one can certainly feel the chewiness of the texture with the sweetness melting in the mouth while having a bite. It is no surprise why this bite-sized snack is often consumed during teatime, as it goes wonderfully well with a cup of warm tea.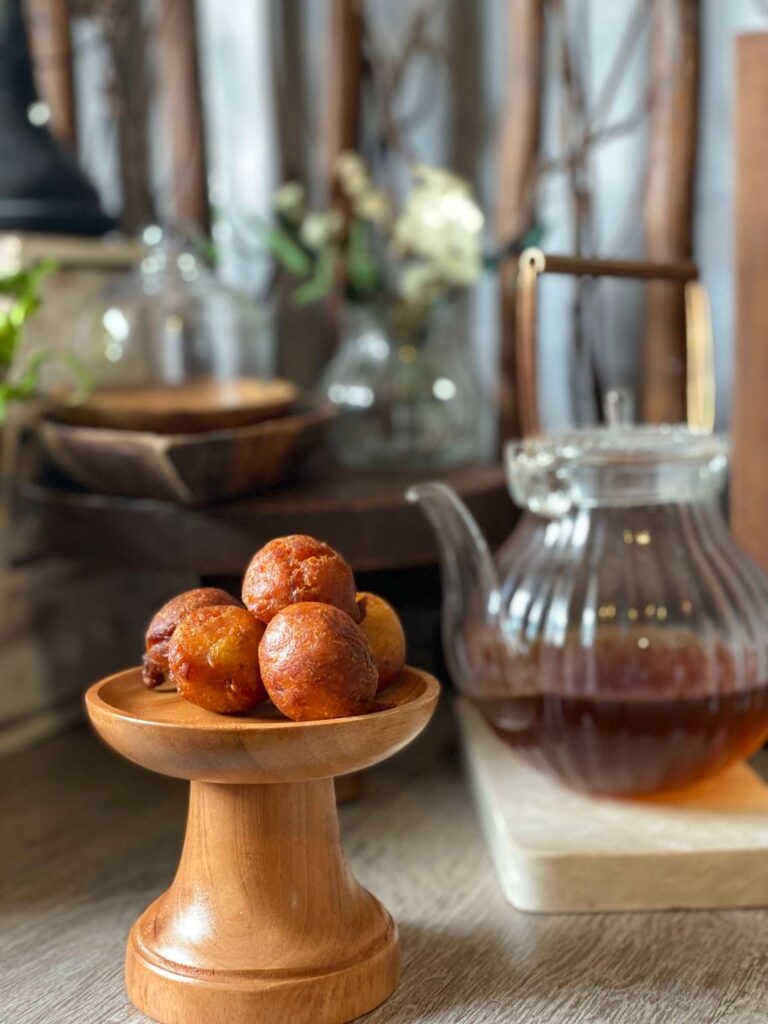 Kek Lapis
Next on our list of under-appreciated Malaysian desserts is none other than the vibrant kek lapis. Literally translates from the Malay language as 'layer cake', this colourful cake serves not just as a local delicacy, but also an exquisite art created among talented cake artists. Kek lapis is divided into two categories; one with ordinary layers and the other with patterns and motifs.
The layers and patterns are often dyed in bright and vibrant colours (a minimum of two colours at least), resulting in these dazzling cakes resembling paintings and mosaics themselves. Kek lapis is certainly a delightful dessert to enjoy with its smooth texture, together with its rich buttery taste, complimented with a little touch of sweetness. Be sure to look out for these cakes during festive seasons in Malaysia, especially during Eid al-Fitr (Hari Raya Aidilfitri).
Bubur Cha Cha
A rather unique dessert simply known for its heartiness as well as its fascinating background. 'Bubur' means porridge in Malay while the word 'cha cha' stems its origins from the Chinese Hokkien dialect word 'che che' which means abundance. And rightfully so, as this dessert is a coconut milk dessert that features an assortment of sweet potatoes and taro, making it one of the most colourful Malaysian desserts. Furthermore, the name itself stems from two languages, which reflects its origin as a Nyonya dessert (descendants of Malay-Chinese marriage from the past).
Together with its rich heritage, comes along with rich flavours as well. It features a creamy rich texture, mixed together with the sweetness from its colourful ingredients; which will make your tummy to go yum-yum. For a fun fact, there is also a local saying that the more types of sweet potatoes you add in, the tastier the dessert becomes.
Kuih Bangkit
And here we have our next entry of Malaysian desserts that happens to be a fan-favourite especially during festive seasons. Kuih Bangkit is a small traditional cookie that is made out of sago or tapioca. The word 'Bangkit' means rise in Malay, with reference to how the cookie expand in size upon baking. This dessert was made using coconut milk and was originally created as a prayer altar offering.
Furthermore, the cookie itself comes mainly in shapes of animals and flowers which have their own auspicious meanings (example include Chrysanthemum flowers which represents longevity). While the cookie itself looks hard on the outside, it is actually brittle on the inside. As one chews the cookie, one could feel the crispiness of the cookie, as well as the sensation of meltinginside the mouth. If you are visiting Malaysia during Chinese New Year, this is one dessert you should not miss.
Apam Balik
Coming at number five for our lesser known Malaysian desserts is none other than Apam Balik. Alternatively known as peanut pancake, this sweet dessert was originally from China and was said to have been originally started by a Qing dynasty general named General Tso Tsung T'ang in 1855. During that time, he was suppressing a riot in the Fujian area. In order to not use the local's food supply, he changed the army's diet to ground cane sugar and peanuts; which were more readily available in the region. Little did he know the snack soon became a local sensation.
Immigrants from Fujian later introduced the dessert to Malaysia, which too became popular among the locals. Apam Balik is often folded to shape like a half-moon and features a crispy texture as well as a rich in flavour. The inside is topped with butter, roasted peanuts, sugar and toasted sesame seed. Thin and rich with a nice crunch while being sold in many local night markets, it is no doubt a childhood favourite among many Malaysians.
Overall Thoughts
And there you have it, five lesser known Malaysian desserts to look out for in your next trip to Malaysia. Malaysia is undeniably a haven when it comes to its delicacies. And one of the best ways to enrich your Malaysia travel experience, is to explore and try as many delicacies as possible, especially the sweet mouth-watering desserts.
If you enjoy the content, feel free to check out my Instagram profile (@yentravelstheworld) where I do share my travel adventures while looking through the windows of history of the destinations that I have visited. Also, if you love visiting Japan but prefer to check out the rural areas and lesser known places, stop by my website Yen Travels Japan where I will introduce to you some of the most beautiful hidden destinations in Japan that will certainly enrich your travel experience.